Businesses are relying more and more on the internet, and based on this, newer ways of marketing are also being introduced to promote these businesses.
The internet has been quick to adopt several digital business strategies that are driving real-world results. Online business strategies need to be more productive and thorough.  Compared to conventional promotional methods, the internet exposes the business to a far more significant demographic.
One of the most effective business strategies, in our opinion, is known as Click-to-Talk or more commonly "Click-to-Call." Click-to-Call or C2C lets your customers connect your business, service, or product directly by clicking on a mobile advertisement. The ad comes integrated with a company's phone number that lets the client directly connect to a real person without manually dialing any numbers. It allows for your business representative to have direct one-to-one communication with your clients and educating them about your product or services.
How can C2C work for you?
Click-to-Call helps connect customers directly to a member of your team via a phone call. It is initiated through an ad that appears on a potential customer's phone, clicking the advertisement will initiate a phone call. This in lieu of taking the customer to a landing page, digital advertisement or your business homepage. In other words, it eliminates a customer barrier.
The most common example of a C2C is searching for business via a Google Search. If the business owner has registered his/her number with Google, then a phone icon appears in the search result that can be clicked to get in touch with a representative of the company/business. Both paid and organic local listings show these C2C buttons.
These advertisements can be found at the top of Google searches to attract the eye of a potential client.
Like all digital ads, the C2C ad campaign can be designed in a way to target customers based on demographics. Precisely, the ads are placed in a way to target the best and the closest customer base, these factors may vary depending on the nature of your business and the locality you want to reach out to. By researching your best customer audience we can derive a customer-specific campaign that is targeting your best audience.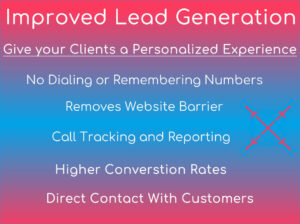 Benefits of C2C
If you are a business owner who is looking to implement a digital business strategy to boost your sales immediately, then "Click-to-Call" is one of the best ways to go. There is an endless list of benefits that C2C can deliver. We are going to go through some of the most significant advantages that Click-to-Call offers. Let's take a look at how it can work for your business 
1.      No Dialing
The Internet has made our lives pretty easy; everything is available to us just with the click of the mouse or a touch of the screen. With all the ease that has been added to our lives, it is also true that we have grown lazier than ever. When it comes to advertisements and learning about them, it seems like a hideous task to remember phone numbers. If you are as lazy as me then you would even find it hard to save a phone number on your phone after a person has called you up. I usually end up apologizing for not knowing the person when I am getting a call from the same individual for the third time.
Click-to-call resolves this issue; it lowers the funnel between the client and the business. C2C will directly connect a customer to a business representative and get a hold of all the knowledge and offers that the company has to offer.
2.      Higher Conversion Rate
The goal of every online business strategy is to convert leads into customers. The conversion process requires effective communication, and there is no better medium for communication than speech. C2C aids with connecting all the website visitors directly to the business representative that can pull them towards their services or products. It makes it extremely simple and convenient for both the business owner and the customers.
The customers find it easy to educate themselves about the business by asking questions, and the business owners have a better chance of converting them into long term customers.
3.      Saves Valuable Time
There are two aspects to this clause. First, think about it by being in your customer's shoes. Would you wish to fumble around on a website looking for a phone number or contact form? Where you must select from a long and tedious website menu before you can even find someone to call? Secondly, if you are using the conventional methods of advertising, your customer will be redirected to your landing page where he/she must read through a bunch of information. The customer is then full of curiosity as for how he/she could get the questions answered that they have yet to get their heads around.
Click-to-Call helps the customer avoid both the problems and is directed to the agent by merely clicking an ad.
4.      Improves Brand Reliability
Customers usually have an opinion about brands, as customers, we tend to consider businesses that are available at any time of the day for support, as more reliable. Easing up processes helps you establish brand trust and reliability. This is done through Click-to-call by providing easy communication to the customers.
5.      In-Depth Call Analytics
Phone calls have a significant advantage over internet traffic. The analytics you can extract from a phone call can make up for meaningful information.  Such as the questions that most of the customers are asking, the time they are spending on each phone call, customer location and much more. This information can help you improve your marketing strategies to best match the requirements of your potential clients. Having the right call tracking in place will further your analytics by providing advertising analytics combined with call analytics.
C2C – Drive More Leads Now!
Having a solid C2C strategy will help boost your business. It will drive relevant leads consistently if done properly.
We are a local New York / New Jersey marketing firm with over 20 years of experience building effective strategies. For more information on how to integrate an effective Click-to-Call strategy for your company contact us at:
1-516-388-7100
Or just schedule a meeting on our calendar
https://calendly.com/businessnucleus/consultation
You can read more about Business Nucleus' C2C strategy on our website: Click-To-Call Lead Generation Strategy